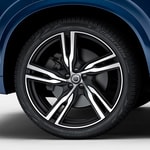 It's wonderfully challenging to decide which Volvo XC90 performance features are worth spotlighting. They're all pretty incredible. The popular luxury SUV looks rich, handles like royalty, and has the advanced safety and tech to match. Its stellar performance is what excites the auto geeks on our Volvo Cars of Lebanon team the most.
Volvo XC90 takes the work out of adjusting your driving behavior to overcome wonky terrain or bad weather in Lebanon. Its Comfort, Eco, Dynamic and Off-Road Drive Mode Settings can be selected to tweak powertrain and steering characteristics for comfort, fuel efficiency, sporty driving, or off-roading. Just select a mode and drive like a pro.
Not only does XC90 have power steering, its Driver-Adjustable power steering lets you preselect speed-dependent low, medium, or high power steering assistance levels. Depending on the speed, XC90 automatically contributes more or less power steering to compensate for driver reflexes, terrain, weather, and road conditions.