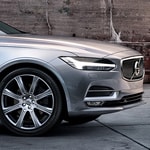 The Volvo V90 spoils you while you hit the open road. Its cabin is comfortable for many reasons, all of which add to this luxury wagon's essence. Those of us at Volvo Cars of Lebanon understand how important safety is for the driving experience.
The Volvo V90 does an excellent job showcasing how critical safety is. They provide plenty of safety features, including the blind-spot monitoring system for you. There are plenty of obstacles and objects that can fall into your vehicle's blind spot. The feature notifies you when something is occupying the blind-spot, making sure you can change lanes safely.
Automatic emergency braking is another fine safety feature found in the Volvo V90. It could be another vehicle that suddenly pulls out in front of you or maybe an animal that runs into the path of your wagon; whatever object, automatic emergency braking has you covered. Visit the showroom in Lebanon, NH for a test drive.